Cannon Safe Fire Protection
Fireproof Safes and Fire Rated Safes
Fires start every 60 seconds and cause billions of dollars in property damage every year. Cannon Safe is uniquely qualified to help you decide which safe is best for you and your family. We'll guide you in comparing the fire ratings of various manufacturers as industry standards do not exist. We extensively test our safes in a laboratory-approved True Fire Test facility that brings temperatures up to 1200 degrees within 8 minutes. With 9 sensors installed in each safe, we are able to get the most accurate results.
A fire is a tragic event that can wipe away your property and memories in a matter of minutes. At Cannon Safe, many of our customers who have experienced a terrible fire have told us that the only thing that remained after their home went up in flames was their Cannon Safe.
Under the Cannon Safe lifetime warranty, our customers have the peace of mind that, after a fire, their safe will be repaired or replaced at no cost. While many safe manufacturers make this claim, Cannon Safe truly does provide a hassle-free experience for our customers in need of repair or replacement of their Cannon safe after a fire. We understand that a safe purchase should be a lifetime investment, and our passion for providing the best customer service and care in the industry is proven with our lifetime warranty that will protect your investment after such a devastating event. If a fire does occur, Cannon will take care of any freight shipping charges, the repair or replacement of your safe, and a locksmith if needed to get into the damaged safe; this way you can move on with everyday life and take your memories and valuables with you. That's the Cannon Safe guarantee.
Competitor Test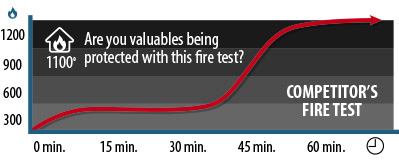 Cannon's True Fire Test